ABOUT SWITCH PICK
ABOUT US - We are a couple of guitarists who have designed and manufactured Switch Pick. Andy is a professional guitarist and Paul is an aerospace engineer.
THE DESIGN - You can change effortlessly between 0.6mm and 1.2mm thickness without having to change picks. The serrated edge offers a third tonal option to your sound. We have taken great care to get the geometry and grip of Switch Pick as perfect as possible.
MATERIALS - The Switch Picks are manufactured in three materials.
THICKER OPTIONS - We now have a 1.6mm and 2.2mm thick Switch Pick, great for Jazz, Heavy Rock/Metal or Bass.
Nylon 66 - (red and black) this is a more flexible material which produces a warm tone.
Acetal - (green) is slightly stiffer in feel compared to Nylon 66 it produces a brighter tone and enables faster playing styles.
NEW! Nylon 3DP - (blue) the 1.6/2.2mm Switch Pick is manufactured using the latest 3D printing technology in Nylon with a tumble finish for improved grip.
ENDORSMENTS - Danny Gill, Bloody Jug Band, Michelle Taylor, Duskwood, Mr. G and more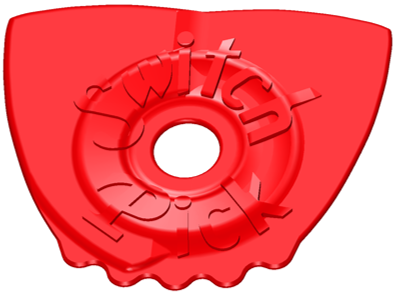 Our Aims
Design a superior guitar pick with an excellent playing 'feel' and grip.
Provide multiple pick thickness in one pick enabling a smooth change between lead and rhythm playing.
Manufacture the Switch Pick in the highest quality materials (currently Nylon 66 and Acetal)
Produce the Switch Picks cost effectively but, in a manufacturing, facility using European / USA environmental and employment standards.
Produce excellent products and ensure customer satisfaction.